Download and view any of our effective 2012 rate schedules below or refer to our services section for decriptions and additional information.
2012 Rate Sheets will be available for download beginning
March 1, 2012.
Please use our ESTIMATE REQUEST under the SCHEDULING tab to request a rate sheet.


System Integration with Property Management & HOA's
All of our clients each have their own operational protocol with different purchase order systems, budgetary limits, approval processes and scheduling preferences. Our scheduling software manages each custom tailored account and allows your vendored services to operate seemlessly as if they were in-house departments.

Estimates, Project Management & Quality Control
We have dedicated staff for all of your property's needs. Whether its an estimate for the entire exterior of your building, an onsite manager for city inspection repairs or a quality control manager for the little one bedroom unit we painted yesterday, we guarantee our work and check each job big or small to make sure we are the most reliable & easiest solution you have ever used.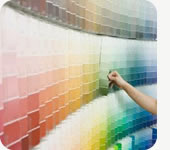 Painting
We are Southern California's leading painting service provider for Multi-Family properties. From 2-Unit duplexes to 1,200-Unit complexes we have the services and support systems to meet any of your scheduling and budgetary needs. Call us today at (714) 228 - 9191 or try our new
online system
for a truly unique and easy way to schedule your next unit turn!

Cleaning
Schedule everything your unit needs all in one shot! Our cleaners can be scheduled to clean your unit after painting and are easily rescheduled should the unit require new carpet or other vendors in between. No more calling multiple vendors to coordinate or rearrange a schedule. We handle it all for you and call you to confirm. Its easy for us and less stress for you!

Resurfacing
Old dirty bathtubs, showers, kitchen and bath counters dont have to be replaced, they can be resurfaced instead! Minor scratches, holes and other imperfections are repaired and then then entire surface is recoated with a new brilliant coating. Old dirty surfaces become new at a fraction of the cost of replacement. The best part? You scheduled with the painting and cleaning!

DRYwall repair
Nail holes, stress cracks and water damage happen but drywall repair is more than just slopping on some patching. It means nice even patches, textured to match, sanded smooth and painted to fade away.

Paint Purchasing & Delivery
We purchase ALOT of paint. This translates into discounts we can pass unto to you! Pay less for the paint you need by ordering when you schedule us to paint. No more wasted time driving across town or waiting for the stores to mix. Get the exact paint we use, for a perfect touchup everytime!
back to top